Lady's after hours podcast
EPISODE 13: TONY VACCARO
Now 96, Tony Vaccaro is a legend in the photography world. Drafted into WWII at age 20, he brought his 35 mm camera with him to the frontlines in Europe—vividly capturing all aspects of an infantryman's life: the chaos, the boredom, the destruction, the death. Tony stayed on in Europe after the war, documenting the reconstruction, before returning to New York where he established himself as a very in-demand fashion and celebrity photographer for Life and Look magazines. To all of his work he brought a love of symmetry and a deep humanity.
EPISODE 14: BARBARA DALY
While in London I met with legendary make-up artist Barbara Daly. Barbara's long and illustrious career includes working with such photographic greats as Helmut Newton, Barry Lategan and Norman Parkinson, in addition to designing the makeup looks for two of Stanley Kubrick's films, 'A Clockwork Orange' and 'Barry Lyndon.' She then went on to found her own beauty school and launch two cosmetics brands, but her most famous work was doing Princess Diana's make-up on her wedding day in 1981.
EPISODE 15: WILLIE CHRISTIE
When I was in London in May I spent the afternoon with photographer and commercial director Willie Christie. A wonderfully gossipy conversation, Willie discusses his career from photo assistant to photographer to commercial director to screenwriter to today. Full of interesting stories and memories about his time as a fashion photographer in the 1970s when he was married to Grace Coddington and shooting primarily for British Vogue, Willie then went on to direct videos for Pink Floyd and have a highly successful commercial directing career that spanned decades.
EPISODE 16: MEL ODOM
Last month I had the opportunity to sit down with acclaimed illustrator Mel Odom. Known for utterly captivating and totally unique drawings suffused with a beauty and mystery that were unmatched, Mel worked extensively in the 1970s and 1980s for publications like Playboy, Time, Viva, OMNI, and Blue Boy. In 1995 he launched his labor of love—Gene Marshall, a fashion doll based on classic Hollywood starlets, who took the toy world by storm. Now focused primarily on painting, Mel is a total Southern gentleman and a joy to speak with. A must listen for anyone interested in art, New York in the 1970s and 80s, the gay experience during the early years of AIDs, and dolls.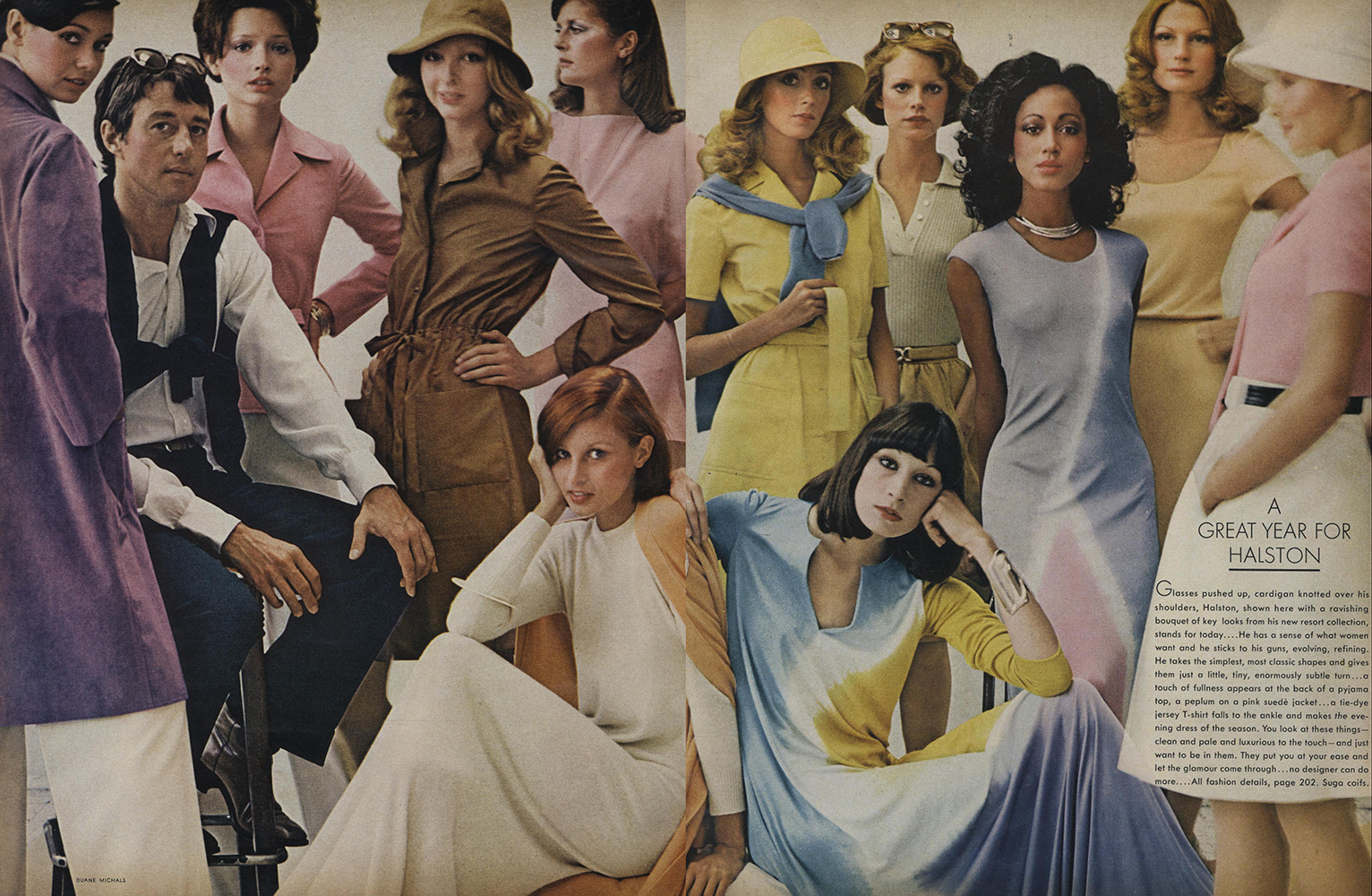 EPISODE 1: DUANE MICHALS
The first conversation is with Duane Michals, a renowned photographer who has worked across a number of different genres—art, portraiture, interiors, fashion and advertising. I met him in his Gramercy home, the stage set of many of his most memorable images and sequences, several months after his partner of 57 years passed away. A Pennsylvania native, Michals has lived in New York City since the mid-1950s and eloquently shared with me his constantly evolving approach to photography. A master storyteller, he pushed the boundaries of the art photography world in the late 1960s and 1970s with his innovative use of "sequences", which are stories told through a series of photos, as well as his use of handwritten text on photographs.
EPISODE 2: NORMA KAMALI
For the second episode I sat down with Norma Kamali. A fashion designer with a career spanning fifty years, she is the perfect example of someone who has molded a life of intention and beauty. Her career in fashion is quite remarkable—in an industry where brands are bought up by conglomerates or completely funded by investors, Kamali is still sole owner of her company. By not engaging with trends, Kamali has instead defined them—throughout her career, she has sought to stay ahead of the curve in both fashion and technology. Her forays into activewear, sweatshirting and swimwear in the late 1970s and early 1980s were the precursors of today's multi-billion dollar athleisure industry, while she established one of the first web stores in the early days of the Internet. It's hard not to be inspired when one takes in the breadth of her career and the surety of her vision.
EPISODE 3: RUSSELL & MARIAN MORASH
The third conversation is with legendary television producer Russell Morash and his wife, Marian Morash. He's been called the "father of reality television" and the "father of home improvement television" due to his work creating such iconic PBS shows as Julia Child's The French Chef, The Victory Garden, This Old House and The New Yankee Workshop. Through his work with Julia Child, Marian learned to cook and became cofounder and chef of a restaurant in Nantucket, and then the on-air "Chef Marian" on The Victory Garden with her own cookbook.
EPISODE 4: MARILYN COLE LOWNES
For this episode I sat down with Marilyn Cole Lownes, who is best known as the 1973 Playboy Playmate of the Year. A true woman of the 1970s, Marilyn was completely in her power then – owning her body, her sexuality, her decisions. This included enjoying a long on/off relationship with Playboy executive Victor Lownes. When they finally married in 1984 they had been on and off for 13 years, and they stayed happily married until his death in 2017. Their life together allowed Marilyn to learn and grow culturally—eventually becoming a journalist specializing in boxing.
EPISODE 5: VICKY TIEL
For this episode I chatted with fashion designer Vicky Tiel, who truly exemplifies an ardor for life. As with Norma Kamali, it was wonderful to speak with a female designer who built her business from the ground up and maintained complete control of it the whole way. In our conversation Tiel details the business strategy she followed that ensured her (and in the early years her partner, Mia Fonssagrives) total control of the product and finances. Licenses and (later) perfume deals were used strategically to gain capital and build brand awareness, but the core of Tiel's business was always a demi-couture line produced in workrooms near her shop in Paris.
EPISODE 6: JERRY SCHATZBERG
This conversation is with renowned photographer and film director, Jerry Schatzberg, who at 90 years old is still creating and working hard. We discussed his path from the Bronx to Vogue fashion photographer, to celebrity photographer and nightclub owner, to acclaimed director.
EPISODE 7: ANNA SUI
This conversation is with fashion designer Anna Sui, who founded her company in 1980. Known for affordable clothes, Sui has created an "Anna Sui world" that is completely identifiable all over the world—from the red floors, purple walls and lacquered black furniture in her boutiques, to the ornate carved packaging on her eye shadows, Sui never stopped herself from fully following her passions. In this interview Anna provides an interesting insight into the inspiration, research, hard work and business behind fashion success.
EPISODE 8: INGRID BOULTING
For this episode I sat down with Ingrid Boulting, best known as the 'Biba girl' of early '70s fashion and Robert DeNiro's paramour in The Last Tycoon (1976). A ballerina, a model, an actress, a mother, a yoga teacher, a business owner, a painter, an animal lover, a trauma survivor—Ingrid truly exemplifies the type of person I have sought to talk with in this series—someone who molds and creates the life they desire in the face of ups and downs and veers off the path.
EPISODE 9: SANDY DVORE
Though you might not recognize Sandy Dvore's name, you would know his work. As a titles designer, he created the opening credits for television shows that helped shape American culture—The Partridge Family (1970 - 1974), The Waltons (1972-1981), The Young & the Restless (1973-1988 drawings and 1984-1999 logo). By developing the visual language of TV and film credits in the 1960s, 70s and 80s, Sandy's work helped create the lens through which we see America in those decades. This conversation centers not just on the highs of achieving career success but also the sadness of what comes after—a meditation on the creative process, the ups and downs of success, and, I think, also a worthwhile antidote to our culture's obsession with youth and newness.
EPISODE 10: MEL RAMOS
Four months before he passed away, I had the amazing opportunity to sit down with the famous pop artist Mel Ramos at his home in Oakland, California. Ramos gained fame and notoriety in the mid-1960s for his paintings that combined commercial goods and idealized female nudes. Led by his passions and by the importance he placed on family and a good work/life balance, Ramos (like many other subjects of this series) has been able to create a life of intention and beauty while also giving joy to his many fans.
EPISODE 11: DAVID LANCE GOINES
For this episode I spoke with the graphic artist David Lance Goines at his printing studio in Berkeley, California. Incredibly multi-talented, Goines is an artist, calligrapher, typographer, printing entrepreneur, and author, yet he probably best known for the posters he illustrated for local Berkeley businesses, which have been reproduced and sold worldwide. Most notably would be the work he has done for the legendary Chez Panisse, which was opened by his former girlfriend Alice Waters—his book covers and annual posters for the restaurant helped define the visual identity of it for food lovers around the globe, in much the same way his other posters have created the visual identity of Berkeley.
EPISODE 12: MARYLOU LUTHER
In the last episode in this season, I sat down with acclaimed fashion journalist Marylou Luther to discuss her long and continuing career. Marylou has been writing about fashion since the early 1950s yet even after seven decades still retails so much passion and engagement with it. Over the years she has written for the Des Moines Register, the Chicago Tribune, McCall's Sportswear, the LA Times, and since the mid-1980s she has devoted most of her time to the Fashion Group International, of which she is the creative director. Every season she attends the shows in New York, London, Milan and Paris, and then puts together an audio-visual presentation that tracks the trends and which is shown to all members of the FGI.